HJRFC Men 1st XV

vs

Murrayfield Wanderers FC 1st XV
Recap
HILLS SPARKLE UNDER THE MURRAYFIELD LIGHTS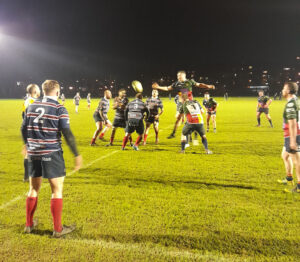 This was a well polished performance from the Hills, running in 8 tries, 4 in each half, with a dazzling display of ball skills with which the visitors, Murrayfield Wanderers , struggled to cope the whole of the game.
First to break the MW line was no. 12, Scott Halliday, who powered in from 15 metres. Then left winger Graham Davidson, showed his fleetness of foot, finishing off skillfully with a try, started in his own 22. His second was not long delayed, when he came off his wing expertly to "knife " through the MW rearguard from some 20 metres out . The 4th and bonus point try was touched down by hooker, Lillian Villion, who drove over powerfully after a series of close range drives. Stand off Rory Harte kicked beautifully off the tee to register 4 conversions and position his side 28-7 at the mid point.
Try as hard as they might at the breakdown, MW just could not halt or even slow down the Hills tsunami of movement over the field , orchestrated by Rory Harte. Try 5 followed from Lilian Villon. Try 6 came via the dancing feet of replacement full back, Russell Tong, whose every touch of the ball was greeted by shrieks of approval from his touchline " teenage" fan club. Try 7 was down to Scott Halliday's rugby nous, sensing a gap and running a hardline to score at the posts. The 8th and final try of a great evening's entertainment at Hughenden fell to debut boy, Matt Rea, who went hard for the line and was rewarded. Rory Harte added 3 conversions to top off an impressive evening's work for the no.10. To their credit, MW did not throw in the towel and fought hard to the end to stay competitive.
This win was based on sound rugby basics, the core of which was quick and unblemished transference of the ball, in very wet conditions, at speed to players who ran hard, on a surface on which high speed rugby could be played. The line out execution, well orchestrated by captain and no 8 Conor Ferguson, was a joy to watch. An excellent performance from the Hills coaches, Tonci Buzov and Craig Colvin, and all 18 players.
This was the final home league game of season 21/22 at Hughenden. The 18th and hence final game will be at Memorial field, Ardrossan on April 2nd , KO 15.00 hours.
Details
| Date | Time | League | Season |
| --- | --- | --- | --- |
| January 15, 2022 | TBD | Tennent's National League Division 3 | 2021-22 |
Results
| | |
| --- | --- |
| HJRFC Men 1st XV | 50 |
| Murrayfield Wanderers FC 1st XV | 14 |
Murrayfield Wanderers FC 1st XV