HJRFC Women 1st XV

vs

Cartha Queens Park RFC 1st XV
Recap
HILLHEAD JORDANHILL WOMEN ENJOY THE AUTUMNAL SUNSHINE
Hillhead Jordanhill Women 1st XV  67 points Cartha  QP Women 1st XV 7 points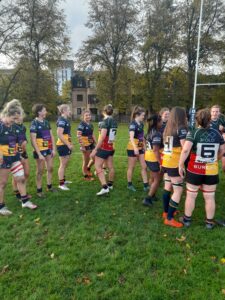 There was little between the sides in the early stages of this game played in fine autumnal sunshine on the main Hughenden pitch. Although Hills captain, Louise McMillan, had opened  the scoring, the visitors replied with a fine move of  their own to score a try which was converted.
Unfortunately that was the last time the Cartha women would be ahead and  able to apply any sustained  pressure in the Hills danger area,  as their hosts began to unfurl all their vast range of attacking skills to move through the gears with ease.  The home attacks came in waves with  their back row of Louise McMillan, vice captain, Debbie Lee, and Frances  Campbell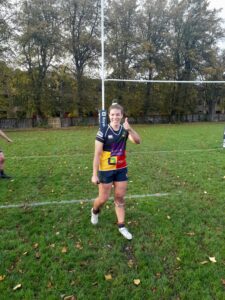 always prominent in the action. Brave as the Cartha women were in defence.  There is only so much tackling that can be executed before spaces begin to appear and try scoring beckons.
After 40 minutes the score was 33-7 and then at no side it had become 67-7.  A total of 11 tries were scored with Amanda Moore converting 5 and Hannah McHugh 1.  Lucy Mills had 2 tries, as did Louise McMillan,  the remaining tries were distributed across backs and forwards.  Fair play to the Dumbreck Ladies  who completed enthusiastically and well for the full 80 minutes,  but were ultimately over powered.
This bonus point win combined with the shock defeat  of table toppers,  Corstorphine Cougars,  at Stirling now opens up the top of the table and makes it everything to play for  in the run in to the conclusion of the Women's Premier league.
Details
| Date | Time | League | Season |
| --- | --- | --- | --- |
| October 24, 2021 | 2:00 pm | Tennent's Premiership (Women's) | 2021-22 |
Results
| | |
| --- | --- |
| HJRFC Women 1st XV | 67 |
| Cartha Queens Park RFC 1st XV | 7 |
Cartha Queens Park RFC 1st XV