Perthshire RFC 1st XV
vs

HJRFC Men 1st XV
Recap
If a week is long time in politics,  then the seven weeks between Hills last game at Fort Matilda on December 11 and their next game at Perthshire seemed like an eternity.    The performance was as if many of the Hills players were weighed down by " ring rust",  such was the slowness of the game's moves.  To be fair,  the pitch did not help , it was undulating  and soft in places, making it very difficult  for the  Hills three quarters to put any pace on the ball.  Despite Hills having approx. 80% of the territorial  advantage in the first half, the  Perthshire forwards held their own well against the visitors driven line out mauls.  Certainly Conor Ferguson, the Hills captain, was positive in that period, always opting for the penalty kick to touch and the subsequent line out.   But despite all the "huffing and puffing",  the game was scoreless  after the first 40 with the hosts barely featuring in attack.    However  such was the physicality of the forwards' exchanges, the " Mighty Atom " ( aka Preston McGoldrick) had to be replaced following a head knock.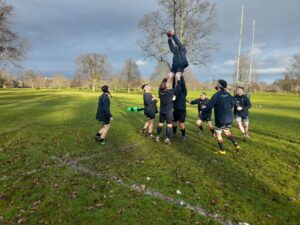 The second half, extended in duration,  due to lengthy spells of treatment for Hills' injuries to Ross Jackson and Giacomo Sanders, both of whom were replaced, was almost a carbon copy of the first. Hills were  in the ascendancy,  but unable to break through.    All throughout the game,  Scott Halliday,  at 12 for the Hills, was exceptional  both in attack and defence and it was down to his rugby nous that the first score  finally came in the 70th minute.    He attacked well,  and,  from  the breakdown,  Rory Harte's fast hands created space  for an excellent finisher's  try from winger, Ciaran Callaghan.  The Perthshire  dam was broken and Damien  Genocchio  made sure of the win by a trademark try, scything through the disintegrating  home defence.     There were no extras from either of  the scores as Hills kicker, stand off Rory Harte, had, for him,  a forgettable day  off the tee.
This was a  hard fought  victory,  but the  players  and coaches  will know they will have to find higher gears to play against visitors Lasswade in their table topping clash at Hughenden on Saturday January 29th, KO 14.00.  New start, Lillian Villon, impressed  at hooker, as did all the back three, Russell Tong, Ruiri Taylor and Ciaran  Callaghan, but all the squad will require their "A" game  on the 29th to record a win.
Details
| Date | Time | League | Season |
| --- | --- | --- | --- |
| January 22, 2022 | TBD | Tennent's National League Division 3 | 2021-22 |
Results
| | |
| --- | --- |
| Perthshire RFC 1st XV | 0 |
| HJRFC Men 1st XV | 10 |